Description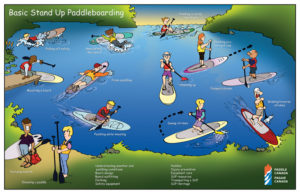 Learn how to stand up paddleboard with us this summer! Our 2.5 hour intro course teaches you the basic skills and knowledge to safely paddle in calm sheltered waters. Skills covered include mounting, kneeling, standing on a board, forward and turning strokes, safety awareness, carrying and loading boards, and more!
Paddlers will be awarded with the Paddle Canada Basic SUP Certification, which prepares you for our other stand up paddleboarding skills courses, such as our Advanced Flatwater SUP Skills course.
Intro courses run every Wednesday and Thursday all summer long!
More Details
Prerequisites: None
Age/Physical Requirements: Participants must be at least 12 years old and should be in reasonable physical condition
Course Includes:
Stand up paddleboard, paddle, leash, PFD, and whistle for course duration
2.5 hours of instruction from certified and experienced Paddle Canada instructors
Course Locations:
Wednesday & Thursday courses are held at the Manitoba Canoe & Kayak Center 80 Churchill Drive Winnipeg, Manitoba (open in Google Maps)
Course runs from 6:00 pm to 8:30 pm. Please arrive about 15 minutes early, so that you are unloaded, changed, and ready to begin at the start time. Arriving late will cut into your instructional time, and that of others on the course.
This course will run with a minimum of 2 students and maximum of 6 students per instructor.
Course Cancellation: It is rare that we cancel a session due to weather considerations however we will do so if, in our judgement, the conditions are dangerous or are likely to present a poor learning environment.
Gear and Clothing
We provide the technical paddling gear that you will need for the course as part of your course costs. That means no additional rental fees on top of the course fee!
You will only need to bring your own personal gear and clothing:
For warmer season/conditions: quick-dry outdoor athletic gear such as paddling tops, rashguards, breathable hiking layers, merino wool, boardshorts, athletic swimwear. No jeans or cotton!
For colder season/conditions: We recommend a shorty style neoprene wetsuit or neoprene paddling top combined with neoprene shorts or pants.
Insulating layers, weatherproof shell layers.
Towel and warm, dry change of clothes.
Secure protective footwear such as water shoes, paddling shoes/booties, or sport sandals.
Hat, sunscreen, and sunglasses with straps.
Any personal first aid, medications, etc.
Waterproof and floatable camera.
High energy snacks, drinking water.
Contact us if you have any questions regarding gear.